ANIMAL TRACK CONCRETE STAMPS
OTTER TRACK CONCRETE STAMP PICTURE HERE
JACKRABBIT CONCRETE STAMPS HERE
BOBCAT TRACK CONCRETE STAMP HERE
MUSKRAT CONCRETE STAMPS HERE



STAMPING RACCOON TRACK CONCRETE STAMP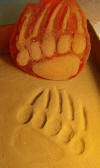 GRIZZLY CONCRETE STAMP HERE

ELEPHANT TRACK
CLICK HERE FOR MORE TRACKS ON THE "TRACK PAGE"
GRIZZLY BEAR FOOTPRINT STAMPS, FOR EITHER FLATWORK STAMPING OR FORM APPLIED. LOTS MORE ON OUR ARTWORK PAGE, COYOTE, FOX, COTTONTAIL RABBIT, PRAIRIE DOG, MALLARD DUCK PRINTS, ANTELOPE, DEER, ELK AND MORE!
NOTE THE FEATHER STAMP IN RIGHT PICTURE
CLICK PICTURES FOR LARGER VIEW
STAMPED ANIMAL TRACKS
NUMBER AND LETTER CONCRETE STAMP SETS:
NUMBER STAMPS FOR CONCRETE_ LETTER STAMPS FOR CONCRETE
AVAILABLE IS SEVERAL SIZES OR CUSTOM SIZES OF
CONCRETE LETTER STAMPS AND CONCRETE NUMBER STAMPS

D.O.T. BRIDGE NUMBERS, NAIL 'EM ON THE FORM AND POUR......
CONCRETE NUMBER STAMP SET, WITH QUICK CHANGE CARRIAGE SET INCLUDES: 25 NUMBERS, LOCKING PADS AND LETTER BOX, EXTRA NUMBERS UPON REQUEST. NUMBERS ARE 1" IN HEIGHT
PICTURE 1- SET COMPLETE, PICTURE 2- RAIL OPEN,
PICTURE 3- RAIL CLOSED, PICTURE 4- STAMP BACK
email for pricing request to msil@nwi.net
SOME NEW STUFF I AM WORKING ON AT THE MOMENT!
FORM LINER MOLD
CENTER PICTURE OF FINISHED CONCRETE PIECE
CLICK PICTURES TO ENLARGE

FINISHED PIECE

WOLF CONCRETE PIECE
AZTEC SUN 24" THIS WILL BE CAST AS A FINISHED CONCRETE PIECE, BUT IS AVAILABLE IN A CONCRETE STAMP.
KOKOPELLI STAMP, 5' IN DIAMETER, WITH STONE BORDER

CONCRETE COMPASS 42" DIAMETER

CENTER PIECE CREE CHIPPEWA TRIBE, MONTANA

NEW CASTLE UNITED LOGO STAMP, ENGLAND
CLICK HERE FOR FINISHED ARTWORK PAGE 1.
CLICK HERE FOR MORE CONCRETE ART

RED FISH AND BLUE CRABS

VINE AND STONE BORDER STAMPS

18" CONCRETE ROSE CENTER PIECE
CLICK HERE TO GO TO MY MISC. PAGE, STUFF I THOUGHT YOU MIGHT LIKE TO SEE THAT DOESN'T FIT ANYWHERE ELSE..
WE ALSO ARE WORKING ON GOLF COURSE TEE BOX MAKERS
HOLE MONUMENTS AND GOLF COURSE LOGO STAMPS
CUSTOM DESIGNS!
NO JOB TOO SMALL!
FREE ESTIMATES!
PETROGLYPH AND INDIAN ARTWORK CONCRETE STAMPS