<![if !vml]>

<![endif]>

ORCHARD SIGN FACE, BRONZE FINISH.

RELEASE "THE KRAKEN" 40"
HERE ARE SOME SINGLE PIECES AND FULL PROJECTS I HAVE DONE WITH CONCRETE ARTWORK STAMPS, FOR SEVERAL PEOPLE WHO WANTED FINISHED ART AND DIDN'T WANT TO STAMP THEM THEMSELVES. SO, I STAMPED AND FINISHED THEM THEN SHIPPED THEM TO THE END USED.....
42" IN DIAMETER 350 POUNDS CENTERPIECE ART TRIBAL SEAL
CHIPPEWA CREE TRIBAL SEAL CENTER PIECE DONE JULY 2004 THIS PIECE IS PART OF THE ROCKY BOY'S RESERVATION VETERANS MEMORIAL (PICTURED ABOVE) DEDICATED AUG. 7TH 2004... THIS STAMPED PROJECT WAS DONE FROM STAMP TO FINISHED PIECE AND TOOK ABOUT A MONTH TO COMPLETE. IT WAS HAND OVERLAID, STAMPED, STAINED, HAND PAINTED AND SEALED. WE THEN DELIVERED AND SET THE PIECE ON SITE OUTSIDE OF HAVRE MONTANA AS THE CENTER TO A WONDERFUL MEMORIAL TO OUR VETERANS. THIS WAS A GREAT HONOR TO DO AND BE A PART OF THE DEDICATION IN MONTANA....


BEAR CONCRETE ART, 24 X 41" PATINA STAINED

STAMPED CONCRETE TROUT WALL HANGING 7X 13" HAND PAINTED

SALMON CONCRETE STAMP 12"


GERMAN SHEPARD CONCRETE STAMP, MOLD SHOWN LEFT, RIGHT PICTURE OF FINISHED ARTWORK

36" X 42" ECOVILLAGE CENTERPIECE STAMP, CLEVELAND OHIO

MIAMI INK

CART-AWAY CONCRETE SIGN

KATANA INDUSTRIES, CONCRETE INSERT FOR SIDEWALK

MOON/STAR CENTER PIECE 24" X 24" X 1 1/2"


GRAPE VINE BORDER DESIGN

DOVE CONCRETE IMPRINTING TOOL

PINECONE CONCRETE STAMPS

THIS IS A STAMPED ROSE CONCRETE ART PIECE, (MY WIFE GOT AWAY WITH THIS ONE, SO I HAD TO MAKE TWO OF THESE!)

DRAGON STAMPED STEPPING STONE
BACK GROUND: BLACK PATINA STAIN (ACID BASED) SIZE: 6" X 16"
COLORS: DRAGON COLORS (OF COURSE), REDS, ORANGES, GREENS AND A TOUCH OF YELLOW.. (ACRYLIC)
WEIGHT: 14 LBS (WILL FEDEX) SEALER: URETHANE HIGH GLOSS UB200
GRAPEVINE FORM LINER AND COBBLESTONE

CONCRETE TABLE TOP, STAMPED WITH BLACK BEAR AND OAK LEAVES


18" CONCRETE ROSE CENTER PIECE
STEPPING STONE STAMPED WITH ROSE STAMP. STAINED, HAND PAINTED AND SEALED. LEFT PICTURE JUST AFTER STAMPING. RIGHT FINISHED.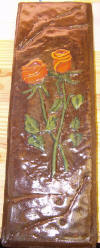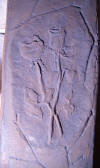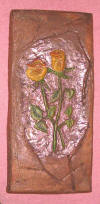 CONCRETE STEPPING STONE ART DONE WITH CONCRETE ART STAMPS

CONCRETE ART SMALL EAGLE ON STAND
STAMPED DESK ART PIECE WITH STAND. STAMPED, HAND PAINTED AND SEALED
THIS IS A CONCRETE WALL HANGING WHITE ROSES DARK BACKGROUND.
FERN WALL HANGING, 7' x 13" STAMPED CONCRETE, PAINTED AND SEALED.
ARTWORK STAMPS HERE EMAIL ME: HERE
A-1 SUPPLY CO. LLC.
9763 H.4 N.E. MOSES LAKE, WASHINGTON 509-762-9389
WE DO CONCRETE ART STAMPS AND FINISHED CONCRETE ART PIECES BY REQUEST. WE ALSO HANDLE ALL YOUR CONCRETE STAMPS AND SUPPLIES CLICK HERE FOR HOMEPAGE AND A FULL LIST OF PRODUCTS WE HANDLE.