Animal Track Stamps for Concrete
From A-1 Supply Co. Llc. Moses Lake, Washington
509-762-9389 Cell: 509-750-1270

HELLO! WELCOME TO MY ARTWORK AND ANIMAL TRACK PAGE.
I HAVE BEEN BUILDING AND SELLING STANDARD CONCRETE STAMPS FOR THE PAST EIGHTEEN YEARS AND SELLING CONCRETE COLORS, RELEASE POWDERS AND DECORATIVE CONCRETE SUPPLIES FOR THE PAST 20 YEARS AND GOT INTO CUSTOM ARTWORK CONCRETE STAMPS BY NECESSITY, PEOPLE ASKED FOR THEM.
I HAVE DONE SEVERAL PROJECTS FOR CITIES, COUNTIES AND STATES ACROSS THE U.S. AND FROM THERE EXPANDED INTO CUSTOM STAMPS FOR SPORTSMEN, GARDENERS, DO IT YOUR SELFERS AND, OF COURSE THE GENERAL CONTRACTOR. IF YOU HAVE A THEME STAMP OR STAMPS YOU WOULD LIKE DESIGNED AND BUILT, CONTACT ME AND I WILL BE HAPPY TO QUOTE YOU PRICING AND AVAILABILITY FOR YOUR PROJECT. I HAVE LISTED SOME OF THE STAMPS AND ARTWORK PIECES BELOW, I HOPE YOU FIND SOMETHING YOU LIKE, I HAVE HAD A GREAT TIME CREATING THEM....IF YOU WOULD LIKE ANY OF THE DESIGNS IN A FINISHED PIECE INSTEAD OF BUYING THE STAMP, I DO FINISHED CONCRETE ART OF ALL THE STAMP DESIGNS. EACH PIECE IS STAMPED IN HIGH STRENGTH CONCRETE, PATINA STAINED OR DYED, HAND PAINTED AND SEALED. CHECK BACK OFTEN, I AM CONTINUALLY DOING ADDITIONAL ANIMAL TRACK STAMPS AND ARTWORK AS WELL.... THANKS!
Mike Silvers, ARTIST / OWNER

NEW! 8" X 40" BLANK FOR BORDER ARTWORK STAMPING, ARTWORK STAMPS SOLD SEPARATELY.
ANIMAL TRACK CONCRETE STAMPS,

COYOTE, FOX

EMPLOYEE STAMPING FOX PRINTS

STAMPING BUNNY TRACKS


CLICK ON PICTURES TO VIEW FULL SIZE.


STAMPED TRACK STAMPS ON WALL HANGINGS

PATIO WITH ANIMAL AND LEAF PRINTS STAMPED

MOUNTED IN WALKING PATTERN. ALSO AVAILABLE IN INDIVIDUAL STAMPS (as pictured left)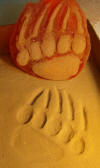 GRIZZLY BEAR, BLACK BEAR,

CITY ANIMAL SHELTER TRACKS STAMPED


OVERSIZED DOG PAW STAMP. RIGHT TWO OF STAMPED CONCRETE.

RACCOON TRACK CONCRETE STAMP

HORSE SHOE CONCRETE STAMP

BOBCAT TRACK CONCRETE STAMP

MUSKRAT TRACK CONCRETE STAMP

MALLARD,

MAGPIE TRACK STAMP
TURKEY TRACKS, RAVEN TRACKS,



DEER TRACKS ALSO ANTELOPE TRACKS
PRAIRIE DOG TRACKS

PLANTS, LEAF AND FLORAL CONCRETE STAMPS, OAK LEAF, MAPLE LEAF, FERN PRINT, ROSES AND ANY THAT YOU REQUEST CAN BE MADE. WHAT KIND DO YOU LIKE?
MANY OF THESE STAMPS ARE AVAILABLE IN FLATWORK STAMPS AND FORM APPLIED VERSIONS

EAGLE ARTWORK, MANY IN PROGRESS, FAR LEFT IS 28"X28"



SEA SHELL SET OF FOUR. SAND DOLLAR, SEA SHELL, SEA HORSE AND STARFISH.

TOP OF SEA WALL STAMPED WITH SEA SET

TROUT STAMP 8", OTHER FISH STYLES AND SIZES AVAILABLE

TROUT STAMP 12" ALSO AVAILABLE AS STEPPING STONE FORM LINER. ALSO AVAILABLE IN FINISHED STEPPING STONE OR HANGING CONCRETE ART. EMAIL ME FOR PRICING msil@nwi.net

MIRRORED DRAGON BORDER STAMPS 9 X 16" CLICK HERE TO SEE FINISHED PIECE
COME BACK SOON, I WILL BE ADDING MORE AS I GET ALL THE PICTURES SORTED OUT FROM THIS YEAR. I WORK BY MYSELF SO IT TAKES ME A LITTLE TIME TO GET ORGANIZED ON MY SITE, BUT I WILL GET MORE PICTURES, I PROMISE.
GO TO ARTWORK PAGE 2 HERE
GO TO FORM APPLIED VERSIONS OF THESE STAMPS FOR VERTICAL WORK CLICK HERE
IF YOU HAVE A REQUEST YOU CAN CONTACT ME VIA EMAIL HERE
OR CONTACT ME AT MY OFFICE 509-762-9389 MONDAY - THURSDAY 7 A.M. TO 5 P.M. PST FRIDAY 7AM TO NOON